Hey Eric & Sookie Lovers!
Alexander's new movie, Straw Dogs is featured in the May 6th issue of Entertainment Weekly!
Here's a "First Look"!
In the article, they give us a sneak peek at some of Hollywood's coolest projects. Rod Lurie's film "Straw Dog's" was featured. The scans below are taken from the issue featuring – Alexander Skargard, Rhys Coiro, and James Marsden and Kate Bosworth. The film is due out September 16, 2011. Lurie is quoted "This is not a soft movie". The film is a remake and like the original it has brutal depictions of rape and murder. "People leave this movie saying they need a drink".
Please click images for larger view.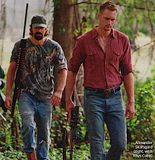 Scans and info courtesy of:  skarsgardfans.com