The results for EW.com's Entertainers of The Year are in the new issue of Entertainment Weekly – Dated 12/16/2011! Alexander Skarsgard came in 4th in the Favorite TV Actor and 3rd in the Sexiest Male categories!
Here is where he ranked, along with the percentage of votes;
Favorite TV Actor
1. Chris Colfer 23.2%
Runners-up:
2. Neil Patrick Harris 15.9%
3. Ty Burrell 14.9%
4. Alexander Skarsgård 12.3%
Sexiest Male
1.Ryan Gosling 29.0%
Runners-up:
2. Ian Somerhalder 25.0%
3. Alexander Skarsgård 12.5%
4. Ryan Reynolds 9.7%
Check out the scan below!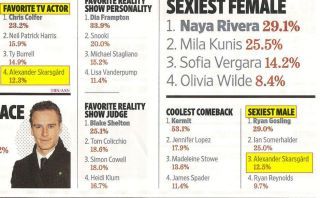 This is all fine and good…but Alex should have really come in 1st in both categories!
What do you think? Share your thoughts below!