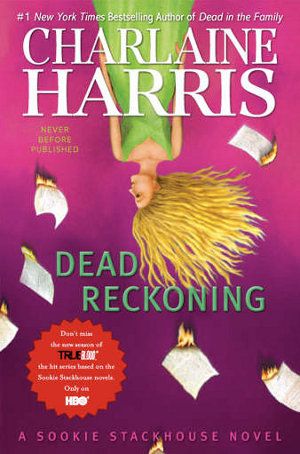 Uh-oh, this isn't a good holiday season for Charlaine Harris and her novel, Dead Reckoning. You may remember that EW.com picked Dead Reckoning as one of the worst books of 2011…?
Now someone else has something negative to say about the novel…
Alter Net has picked their 10 Pop Monstrosities That Almost Destroyed Our Culture in 2011 and Dead Reckoning was picked as one of their Top 10.
This is what they said about it;
5. Novel: Dead Reckoning by Charlaine Harris

It's unfortunate that an author with the imagination of Charlaine Harris can apparently only make her work more interesting by adding an endless stream of fantastical characters, rather than making said characters do more interesting things. The creator of Sookie Stackhouse, upon which HBO's popular "True Blood" is based, Harris is up to book 11 in the series, and it might be time to pack it in (or at least create a spin-off). Add this to tossed-off and confusing plot elements that mess around with continunity and logic (many longtime fans have accused Harris of not actually reading the books in her own series), and you have a beach read that's more frustrating and convoluted than light and fun.
Some of the things they said are true…the continuity and logic are – at times, lacking. But I get the overall impression this writer doesn't realize that Charlaine has already made the decision to pack it in and is only in the process of completing her contractual obligations.
Charlaine wanted to quit after Book 10, if you remember, but her publisher convinced her not to, thanks to the popularity of True Blood.
As for the comments about "adding an endless stream of fantastical characters"…this is nothing new to the series, why is this an issue now? Besides, who asked them to read the book in the first place? We'll just repeat what we've heard a million times before by those who listen to our complaints about the show, True Blood…if you don't like it – don't read it!
What are your thoughts? Share them below!