The threesome (yuck, how I hate saying that word) of Damon, Elena and Stefan from The Vampire Diaries graces the cover of the March issue of Entertainment Weekly which reminded us of the True Blood Rolling Stone cover in the spring of 2010.
You know the one…with Eric, Sookie and Bill covered in blood?
This got me thinking…why couldn't we have a hot cover with Eric & Sookie like the one pictured below of Damon and Elena? WTF?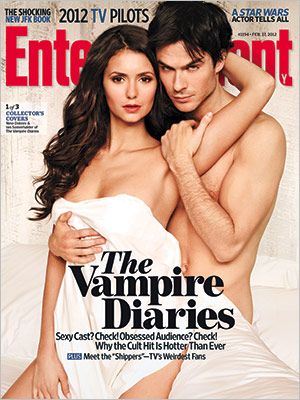 Instead, all we got was this fully-clothed cover of TV Guide and the one in Entertainment Weekly. AGAIN, FULLY CLOTHED!
Not that Eric and Sookie HAVE to be naked, but it would've been nice to have a hot, partially clothed picture of Eric and Sookie, like Damon and Elena's, for season 4 – since this was the season they became lovers.
Sorry, if this sounds more like a rant, but this makes me NOT a very happy Eric and Sookie lover right now!
That being said, there are a couple of polls to cast your vote to decide, 'which cover was hotter: True Blood VS The Vampire Diaries'? The first poll is over at Wetpaint Entertainment and the other poll is over at Celebuzz.com!
What do you think? Share your thoughts below!