Hope you are sitting comfortably ladies as we are about to go into "Skarsporn" overload. Our favorite viking took time out from his busy True Blood night time filming schedule to attend Wondercon yesterday. Along with director, Peter Berg and Brooklyn Decker, Alex was there to promote the soon to be released movie Battleship.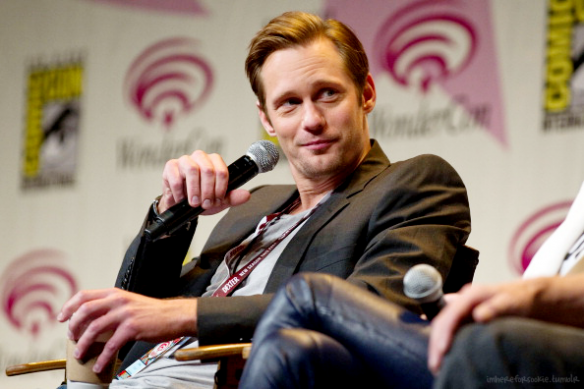 The trio took part in a panel session and then afterwards signed autographs for a lucky few fans before Alex was whizzed away to catch up on some sleep!
A report from the panel is posted on Collider.com and this includes a write up about the new clips that were shown at Wondercon.
Let's start off with the clips as they gave a pretty good indication of the level of action and humor we can except to see in this summer'sBattleship. The first one, surprisingly, highlighted the relationship between the Hopper brothers, Alex (Kitsch) and Stone (Skarsgard). They're out at a local bar for Alex's birthday with big brother Stone buying drinks and doling out unwanted life advice. Alex is apparently on hard times and is unemployed, while Stone is in the Navy, following in their late father's footsteps (which is why Stone feels the need to look out for Alex).
You can read the rest of their report here
In the meantime – Happy Skarsgazing!
Photo sources – Santress  askarsswedishmeatballs  Just Jared I'm here for Sookie