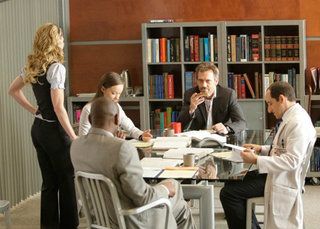 Well this one took us all by surprise, and quite possibly HBO as well.  A combination of existing official promo footage and some interesting new snippets. I'm still trying to get my head round that there is only 17 days to go until True Blood Season 5, 17 days until we find out if any of our theories will come to pass, 17 days until our summer of viking swooning begins once more. Unfortunately there's not really any new viking to analyse (dribble over) but there's certainly some more important pointers towards Sookie's story-lines for the coming season.
First things first, and the hand…….
It sure ain't Tara, so most people are talking Pam here. Whether it is from her turning story or her turning Tara, one thing is for sure, she's going to be pissed about the state of her nails when she gets out. Surely this is the moment Pam rises up with her new progeny – everything is now pointing towards Taram or will it be Para? Later in the promo we catch a glimpse of Eric being netted by the Authority as he leaves Bill's house. I'm going for Eric and Bill rushing to help the woman who just dumped both their ass's when they sense her distress calls, but running straight into Nan's back up team, thus rendering them unable to do the dirty deed. It's over to Pam then ………
Next up the is it or isn't it debate.
This one really has me baffled. As I watched it this morning, I was convinced this was Debbie Pelt on her knees in Sookie's bedroom. But why would that happen? Why would Sookie even dream about Debbie and Alcide in her bedroom? Maybe it's Alcide's wet dream, he's about to make out with Sookie, but feels guilty as Debbie is missing (or he may even know she's dead). It's all a bit of a mystery, and when I manage to get over Mr Weary Wolf  doing his very best, intense, sex face (yuk), I'm still not 100% sure who this is or who this isn't. If it is Sookie, she seriously needs her hair roots doing and a good deep conditioning treatment (or a good injection of viking which always seemed to make her hair all shiny). I have been assured by someone who thinks they know about hands that this is most likely Sookie's delicate hand. I hope not, I'm still having a hard time coming to terms with the possibility that Sooicide is actually going to happen.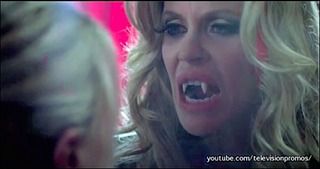 There's some more from the Sookie / Pam Fangtasia showdown. After reading the new episode synopsis I think we can take a fairly educated guess that this is from episode 3, when Sookie goes to ask Pam for some help. Some help with Tara most probably, who is no doubt causing her and Lala a whole load of undead trouble. Pam is probably still aggrieved that Sookie caused the  breakdown of her relationship with her maker, and gets all snarky and fangy in her face. Sookie will use her fairy powers and somewhere along the line Pam will agree to help out with their newborn creature of the night.
There's 3 people in Eric's cubby, and unfortunately for E&SL none of them are Eric. Lafayette is about to stake someone, someone who perhaps is being all grouchy and ungrateful that they were not left to die? Someone who doesn't want to be a vampire and is begging for death? Someone who maybe has passed over with issues? Ok, you get the picture, Laffy is about to put Tara out of her misery and he's not too happy about it. Sookie screams "no" and he doesn't go through with it.
There's not a lot of Mr Northman to report on. Many hearts were undoubtably set a flutter at the sight of Roman masterfully going in for the staking of Bill Compton.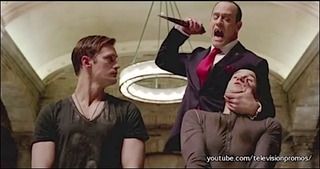 And much as we will be all screaming at the television screen (or at least those of us who have to consume alcohol in order to retain our sanity throughout the season) "Do it, Roman, do it", alas we know he will not. Eric and Bill will worm their way out of this one with a promise to track down and bring in the mutual enemy Russell Edgington, to face Authority justice. Good luck with that one boys.
And there's possibly a better look at the rather stupid person who is holding a stake to Eric's heart.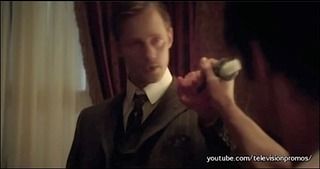 I've heard everything about this one from it's the female who gets thrown against a wall in her petticoat to it's Bill (in the flashback?). All I'm saying is it looks like a man, and with their stake that close to the viking heart, it could well be someone who quite rightly didn't live to regret it.
Or of course the whole thing could turn out to be absolutely none of the above.
Screen caps as usual from Barbara at skarsgardfans
Let us know if your theories are being perfectly formed in  the same way as ours, or have we got it all most dreadfully wrong this year?