TV Line is hosting a Bad Boy Tournament to determine which is the Ultimate TV Bad Boy!
Eric Northman (played by our main man, Alexander Skarsgård; is one BAMF and we love him for it) and Russell Edgington (played by the great Denis O'Hare; is another BAMF, but in a villainous sort of way) are both nominated from True Blood in this poll.  Eric is up against Tate Langdon (Evan Peters, American Horror Story) and Russell is up against Damon Salvator (Ian Somerhalder, The Vampire Diaries).
As you know, both Eric and Russell don't mind getting their hands bloody dirty. They're very old, cunning and wise.  They are definitely one of the reasons why we tune in each week to watch True Blood! Let's show our support for them in this poll!
If you're wondering what criteria they used to pick the players, they cast their net rather wide — including fellas who are dark and a little bit dangerous, truly good guys with naughty, maybe even promiscuous streaks, and actual evildoers who are nevertheless tough to root against.
You have less than 72 hours to cast your votes in this tournament. As you know, they are up against some pretty stiff competition.
May the best bad boy win!
If you would like to check out the tournament bracket, please click on the image below for larger view.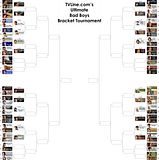 Thanks Eric & Sookie Lovers!