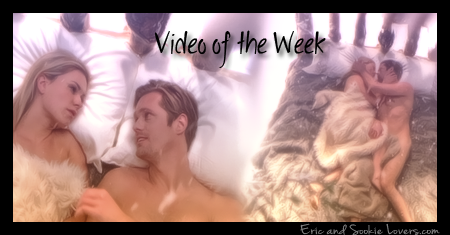 Twas the Sunday before Christmas and time for the final Video Of The Week of 2012, and of this little series. I hope you have enjoyed our selection. There are so many gorgeous Eric & Sookie videos out there, it has been hard to choose, but hopefully everyone has found one that they really love , and we've helped ease the boredom of the post-season hiatus a little bit, over the last 14 weeks. We may be back sometime in 2013, but in the meantime, as production gets under way on True Blood Season 6, there should be lots of goodies to keep us going in the coming months. And then of course there is the little matter of the Happy Ever After in Dead Ever After, and I can guarantee there will be one heck of a fan-party here at E&SL if (when) Charlaine Harris's favorite telepathic waitress ends up in the perfectly formed arms of a certain tall, blonde, ridiculously sexy vampire!
Here is a video by Mia Zawa.
Eric & Sookie 
in
Give in to me
Already looking forward to Sookie Stackhouse yielding some more to the viking next year.
I would like to wish everyone a very, merry Christmas, and thank you for visiting us in 2012.